Many of bloggers now this day while they thinking about launching a new blog, then they thought affiliate program is best and it's their first choice. Because affiliate program can be a better way to the more earning source. So here maximum's firstly chosen Hostgator affiliate program. Every month many of them well earn from Hostgator affiliate program. Just like as Harsh Agrawal in India who is the owner of Shoutmeloud blog. He is the best earner from Hostgator affiliate program in India. Just below his earnings report, I gave here for better documents. It's the earnings report of few months from Hostgator.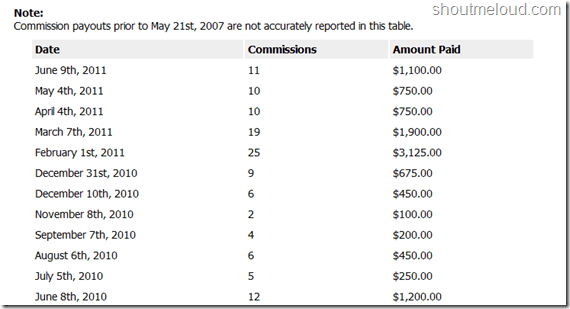 If you are not aware of Hostgator affiliate program till now, here are some important information for you. Hostgator is one of the most popular web hosting and domain companies overall in the world. It offers about unlimited web hosting with high support, 99.9% uptime guarantee and 45-day money-back guarantee. It hosts more than 95,00000 domains truly.
Also Read: Get 25% Instant Discount from Hostgator, Don't Use 20% OFF Coupon
Hostgator popularity makes it easiest for me to promote them. As a happy and benefited customer of Hostgator, I recommend to others for buy hosting from Hostgator. It's a win-win deal situation. For this using people get high-quality hosting and I get a better commission. In this post, I will share about how to make money with Hostgator affiliate program effectively.
Why Should Join Hostgator Affiliate Program?
Here's why should choose Hostgator affiliate.
Get Free Affiliate Membership

– You do not need to have a hosting account to join an affiliate. It is open to all and free. Must I suggest you to use Hostgator hosting before recommending to others. Because it will give you more benefit for your website.

Get Benefit Up to $125 Per Sale

– Hostgator pays for everyone to $50-$125 per sale. It fully depends on the number of your referrals. While the more you refer, the higher commission you get

High Conversion Rate

– If you trust it is one of the most popular web hosts, the conversion rate is must high.

Great Support – Hostgator has a trusted and dedicated affiliate team to assist you. Whenever or anytime you need any help just send to an E-mail.
Options for Easy Payment – You can get paid by Check or Paypal. Paypal is better and easier option.
How to Start With Hostgator Affiliate
Anyone can start with Hostgator affiliate to follow some easy steps. It is so easy for us. Just follow these simple steps.
Firstly go to HostGator.Com. Now click on the 'Affiliates' from the lower right.
2. Just then you will get on affiliate page, click the 'Sign Up Today' button.
3. Fill up your account information and click on 'Continue'.
4. After you have signed up, go to your account information and update payment information setting. It is most necessary for you to get your payment.
Now you are fully done. You are a Hostgator affiliate.
Must Read: How to Install Your New WordPress Theme Manually
How to Make Money With Hostgator Affiliate Program
Let's know how to start Hostgator affiliate which can bring huge money for you. I hope if you follow the below steps, then you correctly understand that how to start it.
Here are some specific tips to getting sales from Hostgator affiliate.
Create Custom Coupon Code and Promote It
Hostgator always allows you to create a custom coupon codes for your total readers. If someone uses your created coupon code while they sign up their account in Hostgator, then you will get your commission regardless. If then the user does not use your affiliate link after then you will get your commission for your coupon codes.
Currently, overall affiliate marketer on Hostgator can create two types of coupon codes, one for $9.94 off for first month and other one is 25% off on the total purchase. Here is the Update29.com coupon codes example.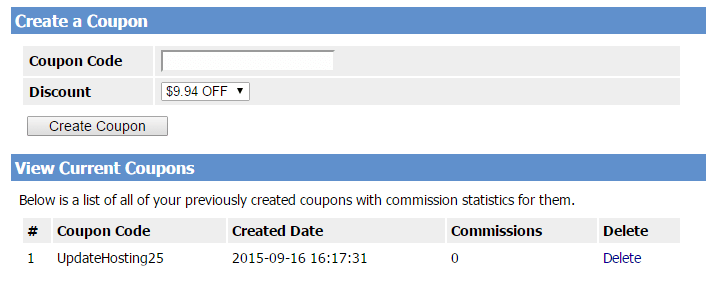 If you are going to buy hosting from Hostgator then you can use my coupon code which I created from update29.com. I have Created coupon code "UpdateHosting25". If you use this coupon code while you sign up to Hostgator for buying hosting then you will get 25% discount instantly.
Remember that never use your own coupon code for buying hosting or sign up.
While you have created a coupon code then you should promote it on your blog and different social media.
2. Promote Different Special Day Offers
Sometimes Hostgator offers crazy discounts on special days like as Black Friday, Cyber Monday, President's day etc. While those offers Hostgator then you promote it your own blog. As maximum time while announcing Hostgator their huge discount, then your readers don't want to miss the chance.
If you can promote this offers properly or timely, then you can expect more sale instantly.
3. Write an Awesome Review
Be honest and get maximum benefit from the Hostgator affiliate. If you are a Hostgator customer then share your real hosting experience to your readers. Write a better review about Hostgator affiliate, because if you write right information then you get more benefit.
On the other hand, never use too much-promoting speech in your review post. It can be harmful instead of a successful destination. HostGator.Com
4. Use Banner Ads On Header/Sidebar
Hostgator has some awesome and attractive banners (Check these). You or anyone can use those banners on the blog site. These banner ads are highly optimized for conversion.
If your blog's niche is not related to web hosting, then you can use a small banner with text like Powered by/Hosted by.
5. Give Incentive Offer
You might have noticed that many bloggers sometimes offer free WordPress install service. Many of them set up your WordPress blog instead if you have to buy hosting from their affiliate link. It is a win-win situation.
You can further offer this type of incentive but not importantly this one. You can also offer a free premium theme, ebook and blog consultation.
>>> Join HostGator Affiliate Program <<<
Final word
Hope you will be benefited from reading this post and this post will help you to make money from Hostgator affiliate program. I also expect that you will help from this post then share it with others like as Facebook, Twitter and Google+. If you wanted to know anything about it then comment below for the answer.