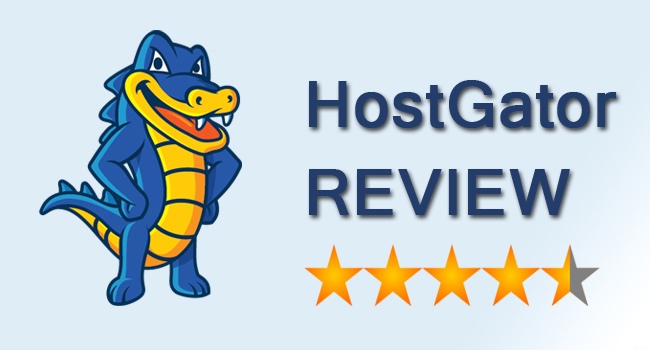 Why

Should

Use

Hostgator

Web

Hosting?
Hostgator web hosting is one of the super popular Web hosting company at this moment in the world, which does not need to any introduction. They are so famous for their amazing support and for their high-quality hosting. I have been using their shared hosting for years and never had complained about them. I am adding here some important Hostgator web hosting review for beginners. Actually, I am highlighting about hostgator some of the pros and cons of their hosting plans.
Still, now, I am using Hostgator web hosting for my wordpress sites. I have almost 2 sites hosted on hostgator server at this moment while I am writing this review and did not find any major trouble with them. There was time while my sites went down for 2-4 minutes, but that happened 2 times in 1 year. But I have got the best support from the hostgator teams like as live support.
Compare to other hosting companies, Hostgator web hosting is the king in terms of customer support. This leading hosting company offers various ways to connect with as Twitter support too. Hostgator is one of the great popular web hosting company for Bloggers or new bloggers, Internet professionals and any webmasters. Differently, when it comes to WordPress, Hostgator is a not only ideal choice looking at 24*7 support and price but also it is so useful for any sites.
Hostgator is the feature-rich web hosting and there are few things which you get any package from the Hostgator web hosting.
Must Read: Get 25% Instant Discount from Hostgator, Don't Use 20% OFF Coupon
Features of Hostgator Web Hosting Plan
Unlimited Disk Space

Unlimited Bandwidth

Site Builder

24*7 Tech Support

Instant Backup

Money Back Guarantee (45 Days)

100$ Google Adwords Credit

Unlimited Sub-Domain

Unlimited FTP Account

Unlimited Mysql Database

SSH

Pop3-Account

Mailing List

Fantastico

Web Stats Scripts

Zencart

Free Website Migration
Hostgator's Plans Review
Hostgator maximum times offers various hosting packages like as Shared, VPS, Dedicated and Reseller. They also offer windows hosting, but I highly recommend to stick to Linux hosting for your wordpress sites. Hostgator's hosting service give in three different sub-package like as ( Hatchling, Baby plan, and Business plans ). While anyone buys these plans then they will get unlimited bandwidth and storage.
Below, I am describing the details of plans, which help you to find out the best hosting plan for your next website.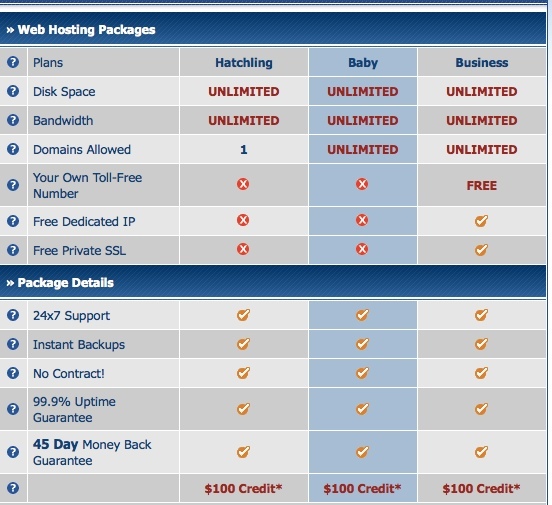 Single Domain Hosting: Hatchling Plan
Hatchling plan is an ideal package for any new blogger who is planning to host only one website. If you start here you will get unlimited disk space and storage with hatchling plan. Still, now it is the cheapest hosting plan initially if you have plans to host only one blog, then you grab hatchling plan and after you can upgrade to baby plan for host multiple wordpress sites.
Multiple Domain Hosting: Baby Plan
It is one of the most popular plans and most of the hosting package on Hostgator baby plan only. Here you can host your multiple websites and offer every other feature of hatchling plan. Anyone can sign up to hatchling plan on Hostgator and can host their different site host here undoubtedly. Also, about 20k traffic can enter here without any issues and any troubles. So if you interested to sign up for the baby plan then you can use coupon code for getting 25% discount.
Sign Up for Baby Plan Hostgator
Hostgator Business Plan
Really I am not a big fan of this business plan apart from the fact. Anyone can use dedicated I.P with this plan only. This plan perfect for different corporate, small business owner and others business holders who are not only one websites professionals. While you buy this hosting plan then you will get on dedicated IP, Toll-free number, and private SSL.
Directly I tell if you are looking for a reliable web hosting for your websites and make wordpress blog you should try Hostgator.
Hostgator Discount Coupon
To make most out of Hostgator hosting, here is the discount coupon for Hostgator which will help you to avail 25% of the package price.
Coupon code : UpdateHosting25
Final word
Hope if you read this post about Hostgator review then you can know fulfill information to Hostgator web hosting. I tell to all that it is the trusted hosting company in the world and it has no competitor in the world. So trust Hostgator web host for running your blogging life. Hope if you will be benefited from this post. If it is a useful post then share it with others and different social media.