We everybody known to the football giant Club FC Barcelona in Spain.
Into the worlds hundred clubs Barcelona is one of the biggest and famous football club which known to all.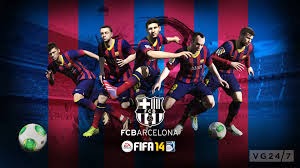 European each football league won the club of FC Barcelona. Most of the most important football players in the world played in this club. Like Maradona was the sensation of this club.
Yoihen kruib was the other sensation of this club. Brazilian super star Ronaldinho played at this club. He was the greatest player for FC Barcelona. He was the sensation not only Barcelona but also a football giant country of Brazil. He won the one world cup in 2002.
Messiah is the giant footballer who plays this club. Messi is playing the running time. Leonel Messi, Enesta, Javi, Pedro, Neimer of the famous player of FC Barcelona. Fc Barcelona won the many traffic for this player. Barcelona is the largest city in spain.
Barcelona is the oldest club in Europe. Barcelona is the third rich club into the whole football club. Barcelonas has a beautiful football stadium in Barcelona city that's name is nuecamp.
32 spanish la lega won the FC Barcelona team. On the other hand the running sensation Leonel Messiah is the one of the superstar who introduced in many football with Barcelona. When the super coach pep gladiola lead this team, Barcelona won the tribal cup.
That's team leader was the sensation of Leonel Messi who touch the milestone for his football goal. Leonel Messi achieved the top position for his 91 goal in the year of 2012.
It is the record between the all players in the world. Previous year Barcelona won the Spanish la lega. Where Messi was the top figure in the team of FC Barcelona. Barcelona's main competitor is the Rial Madrid.
Always the between of the two teams each match is excited. Because two teams are the football giant in Europe. But in this time Barcelona about each matches beat to rial Madrid. Messi is the giant to rial Madrid. Only the sensation about each match beaten the rial Madrid.
Already Barcelona won the two world club cup football. There was the sensation of Messi. Only Messi beaten the club of Santos. FC Barcelona is one of the clubs that build a many of football sensation like Leonel Messi.
Barcelona give serve many of little footballer who's are greatest footballer in the future. Barcelona clubs have so the importance of the champions league.
This cup was won the barcelona in four years. Barcelona hire a most important player in the world such as Messi, Neymer. Eneesta, xavi, Pedro, fabregus, peeka, viya, etc. The former players are Maradona, Ronaldinho, kruef, Ibrahimobich and others important players.
So we called the FC Barcelona in Spain is one of the great and famous football club there created many of footballer.