What is Google Maps?
Many websites home pages are adjusting to Google maps. On the other hand, many websites have a contact or directions page where setup Google maps. Now we detailing here How to Add Google Maps on Your Own Websites. You can use Google maps to create a customized map and embed it just on your websites. In this post, I will share how you use this map and setting on your websites. Lets we learn how to add it.
1. Log into your Google account
2. Navigate to Google Maps
3. Enter the search location bar and put any place name and click the enter button.
Embedding Google Maps in Your Websites :
1. In the upper left corner where the browser winder, click the link button.

2.
Already you will get few options from which to choose.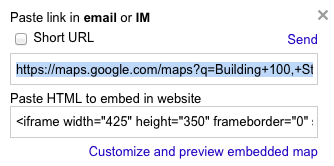 Now use the first URL code to grab only a link to the Google Maps. If you want to embed the map into your websites use the second code. 
3. Have more options, then click the customize and preview embedded map link. You can customize size, see the preview of this map and copy the HTML code to paste in your websites.
4. Go to your website where you want to add Google Maps.
5. Click the Edit tab and paste uppers anyone code and click the save button.
6. Be sure that the text format is set to Full HTML. In the body, field pastes the embed code. We have learned How to Add Google Maps on Your Own Websites.
7. Links to the  Google Maps