Nelson Mandela, who led the emancipation of the South
Africa from white minority rule and served as his country's 1st black president, becoming an international emblem of dignity and forbearance, died Thursday night in South Africa.  Mandela was 95.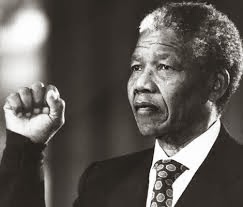 The South African president, Jacob Zuma,declared Mr. Mandela's death.
Mr. Mandela had long said he wanted the quiet exit, but the time he spent in a Pretoria's hospital this summer was a clamor of quarreling family, hungry news media, spotlight seeking politicians and a national outpouring of the affection and loss.


The vigil eclipsed a visit by the President Obama, who paid homage to Mr. Mandela, but decided not to intrude on the privacy of a dying man he has considered his hero.
Mr. Mandela ultimately died at home at 8:50 p.m. Local time, and he will be buried according to his wishes in his village of Qunu, where he  has grown up. The exhumed remains of three of his children were entered there in the recent July under a court order, resolving a family squabble that had played out in the news media.
Mr. Mandela's quest for the freedom took him from the court of tribal royalty to the liberation underground to a prison rock quarry to the presidential suite of African's richest country.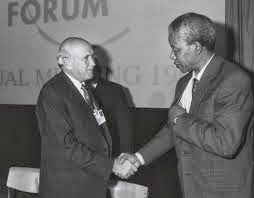 And then, when his first term of office was up, unlike so many of the successful revolutionaries he regarded as kindred spirits, he declined a 2nd term and cheerfully handed over power to an elected successor, the country still now gnawed by crime, poverty, corruption and disease but  the democracy, respected in the world and remarkably at peace.


The question most often asked about Mr. Mandela was how, after the whites had systematically humiliated his peoples, tortured and murdered many of his friends and others, and cast him into prison for 27 years.  He could be so evidently free of spite.
The government he formed  while he finally won the chance was an improbable fusion of races and beliefs  including many of his former oppressors. When he  was elected president  he invited one of his white wardens to the inauguration.
Mr. Mandela overcame a personal mistrust bordering on the loathing to share both power and a Nobel Peace Prize with the white president who preceded him, F W de Klerk.
And as president, to 1994 to 1999, he devoted much energy to moderating the bitterness of his black electorate and to the reassuring whites with fears of vengeance.
The explanation for his absence of rancor, at least in part, is that Mr. Mandela was that rarity among the revolutionaries and moral dissidents  a capable statesman, comfortable with compromise and impatient with the doctrinaire.
When the question was put to Mr. Mandela in an interview for this obituary in 2007  after such barbarous torment how do you keep hatred in check?  His answer was almost dismissive Hating clouds the mind. It gets in the way of a strategy. Leaders cannot afford to it hurt.
Except for a youthful flirtation with black nationalism, he seemed to have  really transcended the racial passions that tore at his country. Some who worked with him said this apparent magnanimity come easily to him because he always regarded himself as superior to his persecutors.
His five years as president, Mr. Mandela, though still a sainted  figuring abroad, lost some luster at home as he strained to hold together a divided populace and to turn a fractious liberation movement into  the credible government.
Some blacks  including Winnie Madikizela Mandela, Mr. Mandela's  previous wife, who cultivated a following among the most disaffected blacks  complained which he had moved too slowly to narrow the vast gulf between the impoverished black majority and the more prosperous white minority.
Someone whites said he had failed to control crime, corruption and cronyism. Some blacks deserted government to the make money; some whites emigrated, taking capital and knowledge with them.
Undoubtedly Mr. Mandela became less attentive to the details of governing, turning over the daily  activities to the deputy who would succeed him in 1999, Thabo Mbeki.
But few among his countrymen doubted  which without his patriarchal authority and political shrewdness, South Africa might well have descended into the civil war long before it reached its imperfect state of democracy.
After leaving the presidency Mr. Mandela brought that moral stature to bear elsewhere around the continent, as a peace of broker and champion of greater outside investment.